Automatic Teller Machines (ATMs) have now become very close and familiar with the people of Vietnam. But few people know that, more than a decade ago, when it first appeared in Vietnam, many people doubted about the success of this machine.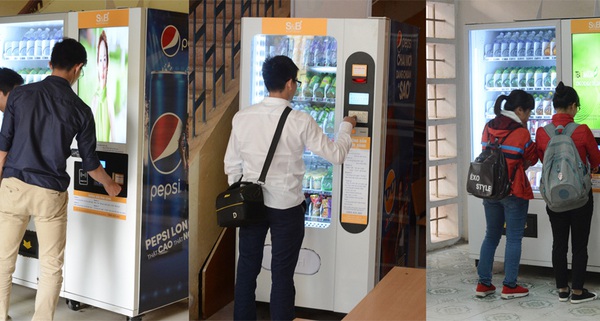 S&B vending machines are popular among pupil and student community
The same story is happening with vending machine infrastructure.
Current situation of auto retail infrastructure in Vietnam
Vending machines have long been a familiar means of buying and selling in many developed countries around the world. In Japan, these machines are so popular that people not only buy food and drinks, but also can watch fortune telling or buy pets from vending machines.
With a large population, the rapidly increasing purchasing capacity of consumers and a rapidly developing urbanization rate, Vietnam is considered as a potential market for this type of business. However, up to now, the concept of vending machines is still unfamiliar to most consumers.
In 2003, when the State Bank officially issued coins in Vietnam, a number of manufacturers introduced vending machines with the desire to create modern shopping habits for people. Unfortunately, the coins were not popular with many people and the vending machines were also quickly "shut down".
After that, there were still some small businesses or large enterprises trying to invest, but most of them struggled to survive. It is thought that the "stuck in a rut" scene of the vending machines will continue to take place in Vietnam, but recently, with the methodical investment and the scale of a number of businesses, this means of buying and selling is gradually gaining the trust of a part of consumers, especially young people.
According to research, one of the companies that sell large-scale vending machines in Vietnam so far is International Consumer Product Investment Joint Stock Company (ICP., JSC), which owns the brand S&B (select and buy) – auto retail infrastructure.
In a short time of system formation and development, S&B has built infrastructure of machine-located facilities in hospitals, schools and industrial parks spreading across the North, Mid and South Sides. In addition, the company is now a diversified distributor of branded FMCG products in the market such as Cocacola, Ajinomoto, Suntory Pepsi, Vinasoy, Tan Tan Group, …
It is known that the highlight of these vending machines is that they are all imported from reputable foreign suppliers. Buyers do not need to use coins but can pay with cards or paper money. Moreover, unlike other conventional vending machines, S&B system also has the ability to pay excess money (at some point of sale) to help customers more convenient in the shopping process.
Ms. Bui Thuy Huong, a student of the International University of Ho Chi Minh City – where S&B's vending point is located, shared: "This automated retail system is really convenient, the price of the product is equal or even lower than big supermarkets and convenience stores. "
The unexploited "Gold mine"
When talking about the cause of the failure, most businesses developing this system believe that the habits of Vietnamese consumers are very difficult to change. However, Mr. Nguyen Bao Quoc – General Director of the company has a different opinion.
With experience deploying services at nearly 200 points of sale across the country, Mr. Quoc said that current consumers, especially young ones, are updating trends in the world very quickly. "They are ready to experience and use if the service is really good", Mr. Quoc said.
According to S&B's CEO, the story of the automatic retail system is quite similar to the early development of ATM machines in Vietnam
Back to more than 10 years ago, when the first ATMs appeared, not many Vietnamese people were interested in withdrawing money through cards as well as experiencing ATM card services. Partly because the habit of using cash has "ingrained" on people, partly because the infrastructure has not been developed, so the coverage of ATMs is still low.
However, according to the economic development, the growth rate of the ATM market is getting higher and higher with the increasing scale of issuance and usage. According to data from the State Bank Payment Department, by the end of the second quarter of 2016, the whole market had 106.03 million bank cards (including both domestic and international cards).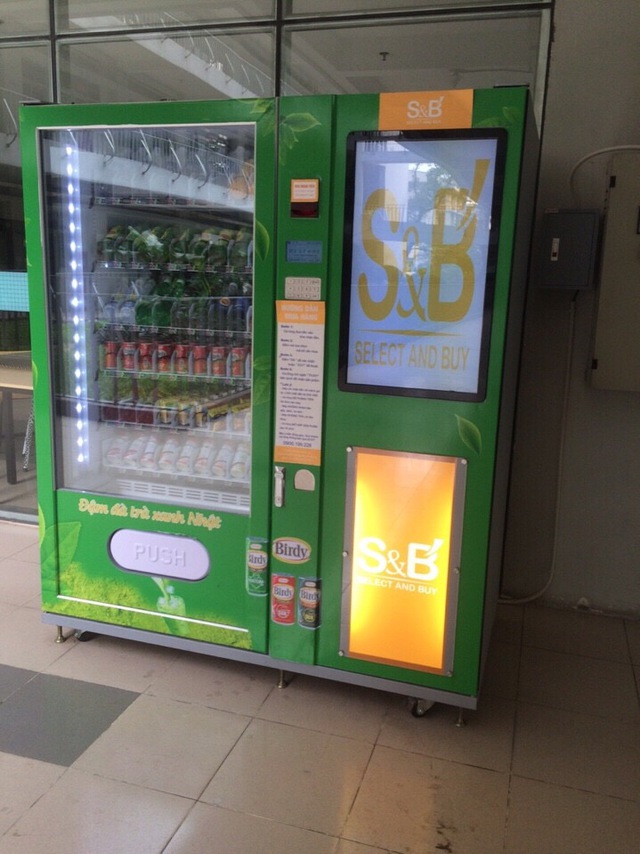 Vending machines are present in many large industrial parks across the country
Mr. Quoc said that like ATM, when the automatic retail infrastructure is large enough, users will change their habits and the vending machine market will bring "gold" to companies with the right business strategy. "The market size may reach $3 billion by 2020", the head of the S&B automated retail system said.
"We are looking forward to a lot of domestic and foreign units deploying this system to make the system spread faster and faster, and Vietnamese consumers will benefit from more modern services."
Defining the mission of the business is to create the highest utility value for Vietnamese people in modern consumption, S&B said they are continuing to invest and perfect the technology. In the coming time, customers can pay for transactions by smartphones, even from regular phones. Besides, not only selling beverages and fast food, the company plans to sell many other items such as vegetables, fruits, foods, and fastfoods.
S&B's goal is that by 2020, the automatic retail system of this business will reach 10,000 sale points, stretching in the provinces of Vietnam as well as some developing countries in Southeast Asia. To achieve this goal, S&B is currently receiving active support from more than 100 shareholders as well as comprehensive coordination and cooperation for project sponsorship of Saigon – Hanoi Commercial Bank (SHB) for this automated retail system.
Talking to a branch manager of SHB Bank about S&B automated retail system, he said that – "for International Consumer Product Investment JSC in general and especially about S&B retail system in particular is always prioritized by the bank to support the best financial solutions, to meet the continuous development of the sales system. S&B automated retail, especially SHB is a large joint stock commercial bank, with a system of branches and transaction offices covering most of the provinces and cities in Vietnam ".
On January 10, 2017, in Ho Chi Minh City, International Consumer Product Investment Joint Stock Company signed a strategic cooperation agreement with Cocacola Vietnam Beverage Co., Ltd. on the development of auto retail infrastructure.