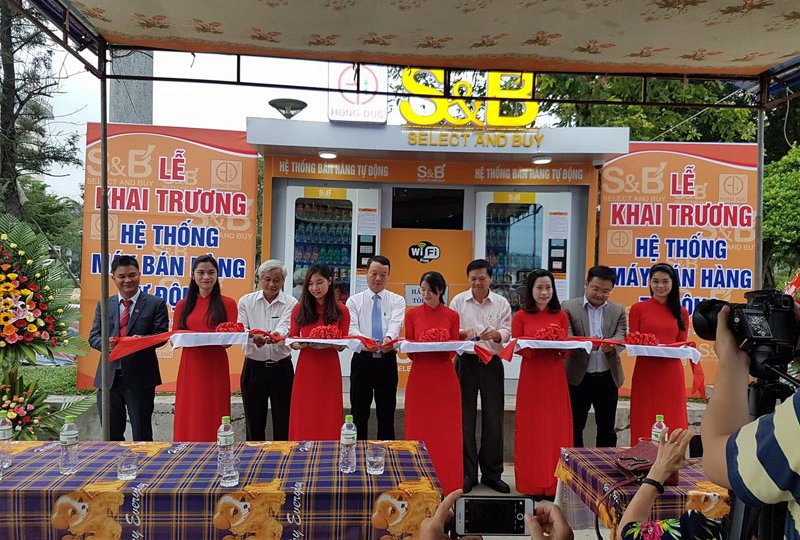 On the evening of May 26, at Nguyen Dinh Chieu pedestrian street, Hong Duc Joint Stock Company cooperated with the International Consumer Product Investment Joint Stock Company to hold the opening ceremony of the vending machine system.
After being approved by the provincial People's Committee and the People's Committee of Hue city, Hong Duc Joint Stock Company has installed 35 vending machines at Hue Central Hospital, Hue University Hospital of Medicine and Pharmacy, the system of Local universities and colleges and some public spots. Up to now, the Company has completed installation and put into operation 24 machines.
The system receives cash with denominations from 1,000 VND to 50,000 VND, each machine holds 300 products. This machine has many advantages such as: easy to operate, maintain and withstand all weather conditions. Each product type is numbered with a clear selling price. To buy products, consumers just need to put the appropriate denomination in the cash receiving slot, select the product number as prescribed and receive the product.
In addition to investing in vending machines, at these points the Company has installed 32-inch LCD screens integrated on the system to promote Hue tourism and propaganda on major holidays, install free wifi system for tourists and residents.
Được biết trong thời gian tới tại các điểm bến xe, nhà ga, khu công nghiệp, khu chung cư, các điểm di tích và du lịch trong thành phố cũng sẽ được lắp đạt hệ thống máy bán hàng tự động với số lượng khoảng 100 máy. It is known that in the near future at bus stations, railway stations, industrial parks, apartment buildings, monuments and tourism spots in the city will also be installed with a vending machine system with the number of about 100 machines.
(Source: www.thuathienhue.gov.vn)