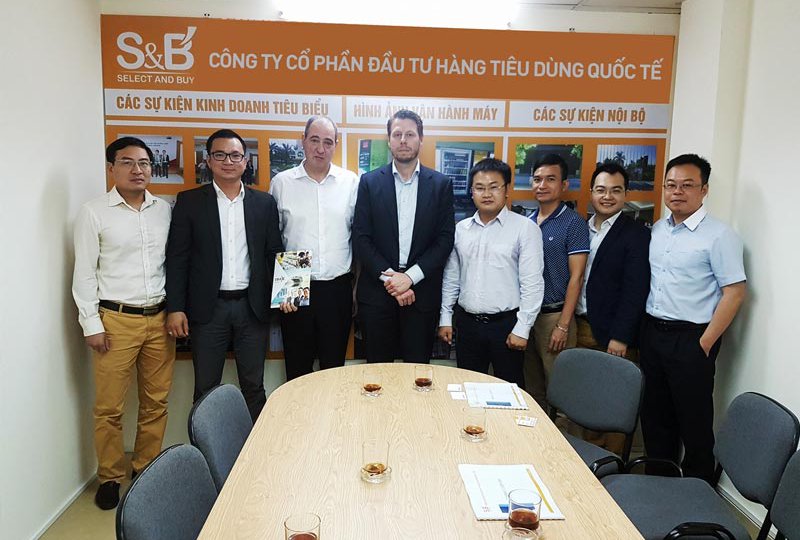 On March 31st, 2017 at the office of International Consumer Product Investment Joint Stock Company (ICP), with the introduction of the Embassy of the Kingdom of Belgium in Vietnam, the representative of Colex-Export Company, under Colruyt Group (Belgium's No. 1 retailer – revenue in 2016 reached more than 9 billion USD) with more than 7,000 food products and 23,000 non-food products came to ICP to work. Mr. Stephan Vanlent – Commercial Director of Colex – export introduced the group's products as well as proposed his wish to cooperate fully with ICP. In this meeting, Mr. Stephan shared: in addition to being successful in the European market, Colruyt's system is developing very strongly in African countries such as the Congo, South Africa … as well as some countries in Southeast Asia such as Myanmar, Thailand, Malaysia …
Currently, Colex – export is targeting the retail market in Vietnam and also proposed to cooperate with many retailers in the Vietnamese market, but for the retail system through automatic sales channels, the brand ICP's Select and Buy (S&B) auto retail is the only entity that Colex-export so far wants to cooperate, based on network coverage and future development orientation. The current products as well as Colex's partnership with Select and Buy are very suitable for the current economic conditions and income of Vietnamese people and meet many factors in developing the S&B brand name.
At the end of the meeting, Mr. Nguyen Bao Quoc – General Director of the Company expressed his concern and goodwill about the long-term cooperation between the two sides. Colex-export and ICP agreed on a phased implementation plan and committed to giving each other the best supportive policies to promote deep cooperation and bring success for each party.